Message from the President
About the time you receive this newsletter, hundreds of ASI members will be convening in Orlando, Florida to talk about ways we can all be more effective in reaching others with tangible help-ways we can provide substantive provisions for those in need. You see, the more we invest in people, the more authority we'll have in their lives when we talk about the Gospel. We've been so heavy on proclamation, we've forgotten that we live in our communities, doing good, in the name of the Lord, but out of DISINTERESTED BENVOLENCE, we love others WHERE THEY ARE AT.
Keep in mind, over GENERATIONS, we've believed the 2nd Coming was imminent. We've used this as justification to short cut the normal process of relationship development. This ought not be done. I'm reminded of the lyrics I now share with you.
All my friends are heathens, take it slow
Wait for them to ask you who you know
Please don't make any sudden moves
You don't know the half of the abuse
By Twenty One Pilots
Join me in an effort to be such a part of our communities that we know their needs and meet them. Then, when they ask who we know, we'll be able to say to them, "God is love".
C Fred Cornforth
President ASI Northwest
AMEN Everett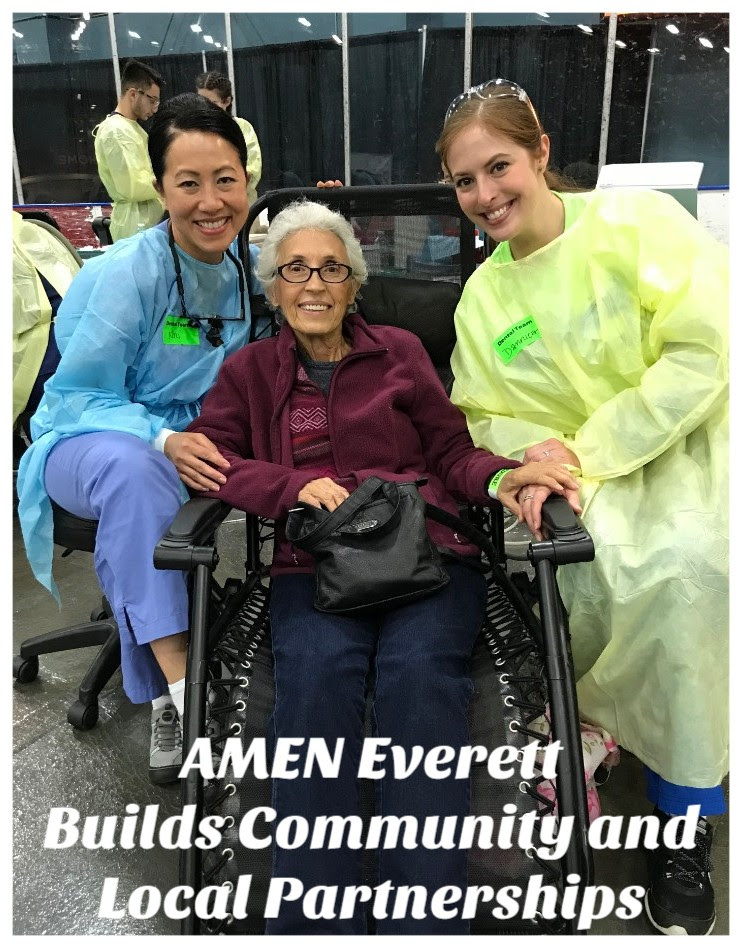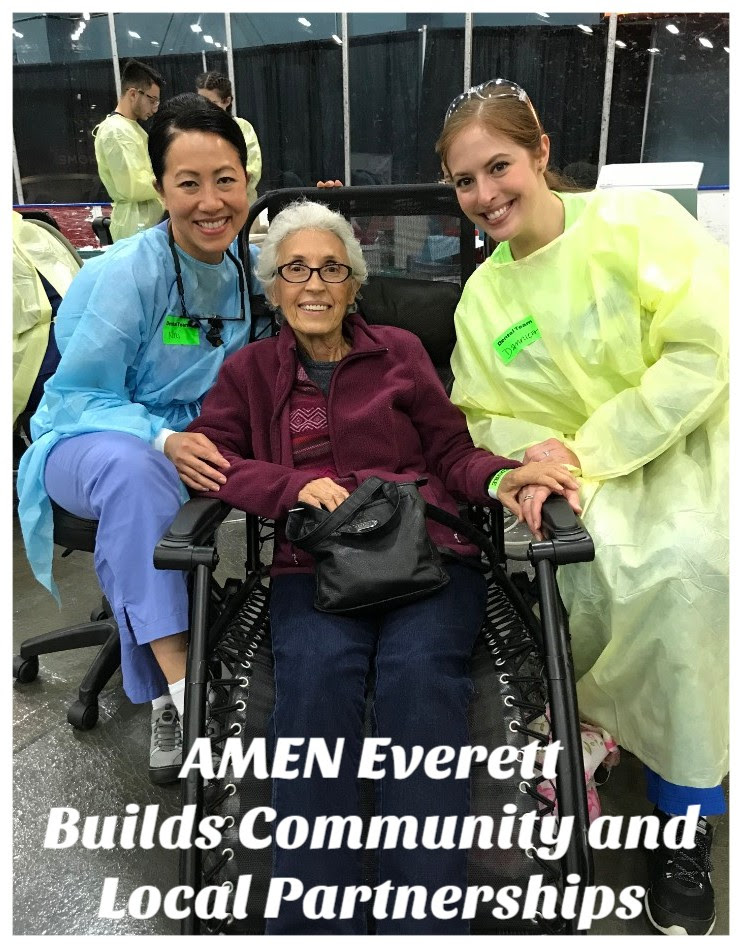 In April this year, AMEN Everett offered free dental, vision, and medical services, health education, massages, counseling, and prayer to those who wanted it! About 775 volunteers from the local community spent Friday, Sunday or both days giving back to 1,100+ residents in their community.
A Story from a Volunteer
The clock was ticking and I knew I had some commitments to keep. But something encouraged our team to squeeze in one last patient. It turned out to be one of the biggest blessings to happen to us. Meet Maria from Startup, Washington. She asked me questions about my Heritage and listened to my story of how my family fled after the Communist takeover of Vietnam. After fixing Maria's fractured tooth, she turns to me and shares her own story. "I'm originally from Cuba. In 1956, I left Cuba to get away from the Castro Regime. I was only 12 years old and my parents were left behind." First impressions of Maria – you see a sweet and gentle lady, but underneath lies the soul of a determined survivor. Although separated from her parents at such a pivotal time, Maria went on to earn a nursing degree and to raise three daughters, one of whom is currently a hygienist. Maria and her husband owned a berry farm in Startup for many years and she let me know she did her best to employ newly arrived Vietnamese Refugees. She is a senior on a limited income and is so very grateful for the dental treatment she received from us for her emergency at the Amen Clinic. At 74 years old, Maria will be volunteering in the nursing department of the clinic this Sunday at the same event she has received care. How cool is that! I had the opportunity to thank Maria for embracing refugees in 1975 at a time when it was not the most popular thing to do. Thankful for people like Maria who make our Country and our Community so beautiful!
Thank you for the beautiful opportunity to volunteer! I was able to treat two patients during the Amen Clinic that I had previously served on the dental van in the past. We were jumping for joy since it was divine intervention that allowed Brian and Jerzey to be seated in my chair during the Clinic. I tried to share stories on social media and told as many people as I could to get more volunteers to come since I knew the need was high. What a huge blessing the Amen Clinic was for the entire community. 43 years ago my family arrived in Snohomish County as refugees. It was the community and the church that came together to help us. I will never be able to say express my appreciation. – Nhi Pham, DDS
Heart Mission in Kiribati
Tabitha Abel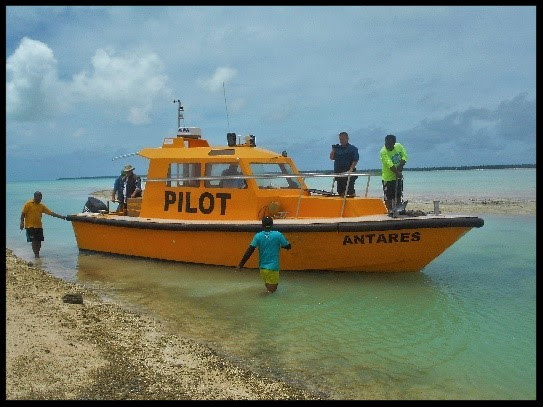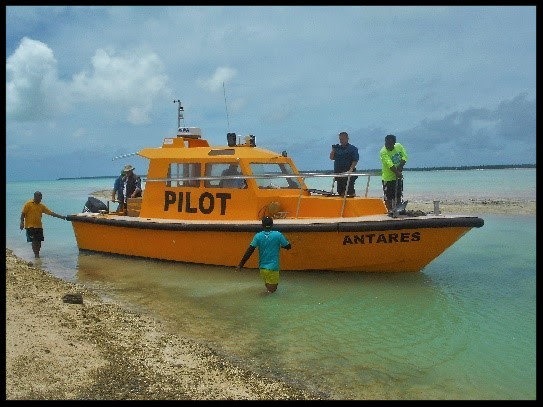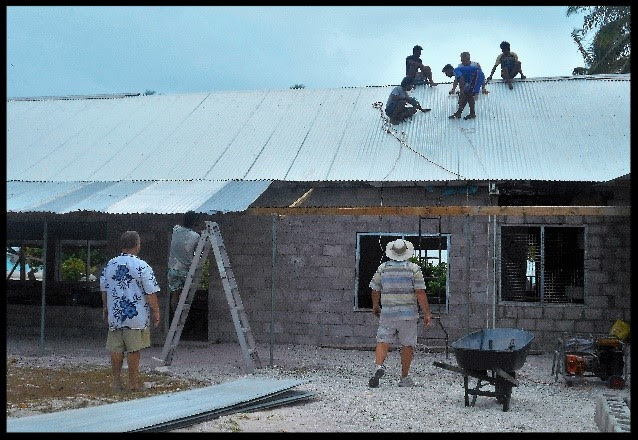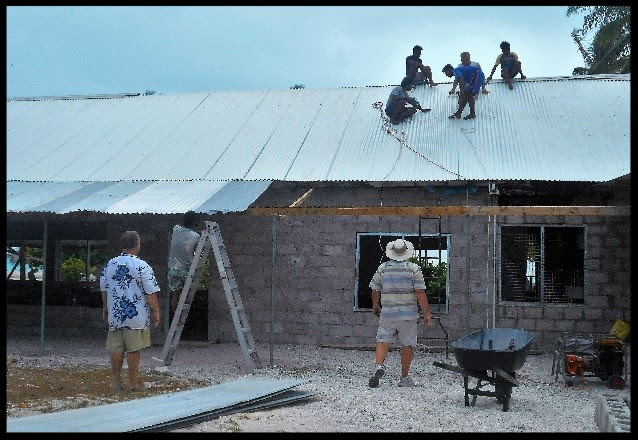 Mission service comes in many forms. It might be weeks or years, in your own community or in a village buried deep in the heart of a distant continent, or on a twenty-plus, by one-mile atoll where the sun emerges from inky blue seas of the Pacific Ocean at 6.30am and dips behind huge coconut palm fronds into the calm seas of a turquoise-blue lagoon at 6.30 pm. Search for One (SFO) has served the scattered atolls of Kiribati, pronounced Kira-bas, that lie over the equator, a little west of the date line, for over 25 years –our "heart mission".
Now under the leadership of Gary Morgan, SFO organizes 2-trips each winter from the north-west, to the nether reaches of our planet where volunteers could disappear into a pool of sweat, must defy the occasional mosquito or falling coconut, endure composting toilets and weather smacks of harmless jellyfish or storms that whip waves so high that one could imagine our basecamp at Kauma High School being swept off its 25 ft perch into the roiling ocean.
After a 5-day stop in Tawara for Sabbath and two dental-clinic-days on the main island, a boat took our team to Abemama, an outer-island. We were not disappointed by the welcoming, smiling faces and friendly greetings of the students and staff at Kauma Adventist High School (where there is internet some of the time) and where people whose simple lives mean they encounter challenges every day.
The seven volunteers met their own challenges: to provide dental care (extractions) in three health clinics with transportation provided by the government truck; to re-do the church's corrugated iron roof; to finish building and plastering the pastor's new office and a Sabbath school room (add-ons to the church); to clean out the school clinic which now housed a teacher and her three children; to initiate a Vitamin A supplement program to prevent night blindness in children because of a diet almost devoid of green, yellow and red fruit and vegetables and to assist in the school garden that provides only a small amount of vitamin-rich foods.
God blessed us with a few significant happenings that could only be called miracles –but after almost two weeks on Abemama, we were sad to leave the melodious harmonies and laughter of the high school kids, to no longer swim in the warm seas or dig our toes into the white and pink coral sands, to see our last beautiful sunrise and eat our last fresh coconut. We were sad because the health needs persisted, the school still needed more desks and three new classrooms and many children still didn't even have a pair of flip-flops.
If you are ready for this type of adventure for God, then the next trip might fulfill your passion to reach people who are so far from anywhere that they are forgotten by mainstream missionaries.
If you have a heart for this mission, you can learn about the November 2018 and February 2019 trips at SearchforOne.org.
Gospel Outreach
Beverly Thompson, Regional Director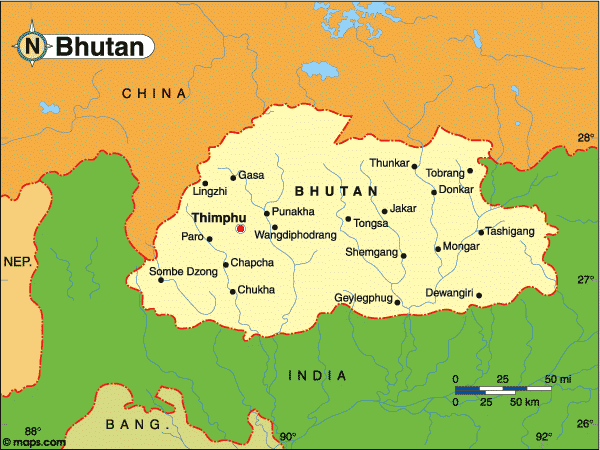 Bhutan is a small, landlocked, mountainous country between China and eastern India. This remote Himalayan kingdom is proudly independent, with strongly established traditions and deep-rooted religious beliefs. To preserve the Bhutan culture and traditions, there is a strict entry limitation policy, and all visitors must be accompanied by a authorized guide.
Bhutan law says, " Religious institutions and personalities remain above politics." This part of the constitution empowers monks and religious persons to persecute and impose their religious rituals upon Christians and other religious minorities in Bhutan. Apostasy is punishable by death, but usually ends with losing your family, expulsion and loss of citizenship for the converted. One convert showed a Christian film to a group of people—he was sentenced to 3 years in prison!
They boast of religious freedom, but when submitting an application for registering a church, they are refused. Thus Christians are allowed to only meet and hold prayers in their homes.
As a child, PK had malaria and "died", but on the way to the prepared pyre, he awakened. This happened again later. Then one day he was in a traffic accident, and "died". Again, while carrying him to the pyre, he awakened. Years later PK said, "I was saved 3 times from the pyre. I know God has a plan for my life."
PK was married with 2 girls and one boy. He became a Christian convert (Assembly). He heard about the Adventist Bible doctrines and wanted to know more. Pr. Deep Thapa shared with him the SDA doctrines, but then Pr Thapa died. PK made a trip to the SDA church headquarters in nearby Falakata and told the President of the Conference that he wanted to be baptized. Thinking that PK may just be looking for a job, he sent PK home to study the state of the dead. PK returned the next month for baptism. Again he was sent home to study the 3 Angels Message with a copy of The Great Controversy. PK returned and the pastor asked him what his beliefs were regarding all 28 doctrines. He agreed with all of the doctrines. PK was baptized.
Then it happened. One day PK found all of his clothes and shoes outside his front door and the door locked. He knew what that meant—his wife had not accepted Christianity. With her parents pushing, his wife was kicking PK out of her life. PK continued to tell others about his new-found faith.
Six months later, PK told me the above experiences in front of the pastor. Then the pastor turned to me and said, "I recommend him to become a Gospel Outreach worker. May we have your permission to do so?" The next year when I visited, PK had been imprisoned for 3 days due to charges of proselytizing. Later PK found a job as a brick salesman in an attempt to camouflage his "other intent." But a brick maker turned him in to the police for sharing a Bible with him. Again, he was imprisoned for 3 days.
About that time, he asked for permission to translate The Great Controversy into the Dzongkha language of Bhutan. PK told me that his brother was an English professor in the Thimpu Bhutan University, and he would edit the translation.
One day, PK saw a poor elderly lady who had been lame for seven years. PK told her the story of how Jesus healed the lame man, so she invited him inside to pray for her. While praying her son quietly went out, but came back with a policeman who arrested PK. While in jail, he told every guard his story and asked to be taken to the woman to prove that she had invited him in. No guard listened until the 25th day of imprisonment. When the new guard and PK arrived at the lady's home, she ran to him and hugged him joyously exclaiming, "Your God healed me. See, I can walk!" With that, the guard said, "Let's go back to the police station. I will write your discharge." PK said that for the guard it was, "Almost thou persuadest me to be a Christian."
Now, PK has completed translating The Great Controversy and Steps to Christ into the local Dzongkha language. The need now is to get these books published. It will be approximately $20,000 for the first printing of 10,000 copies of both books. The population of Bhutan is about 800,000 people. PK's hope is to distribute this book to every literate family in Bhutan. This first printing may reach literate families in 2 major cities, with hopes for more printings in the near future to distribute to all major cities in 2 years—the capital city will be scheduled last in an effort to prevent religious antagonism where the king's family lives.
PK says, "Twenty thousand US dollars is a lot of money to us. But we are ready for the results of this mass distribution. We need help to get these books printed. Won't you please join us in this effort to spread the good news to my dear people who are so entrenched in Buddhism but need Jesus. We also want to see Jesus soon! Thank you."