2022 ASI NORTHWEST CONFERENCE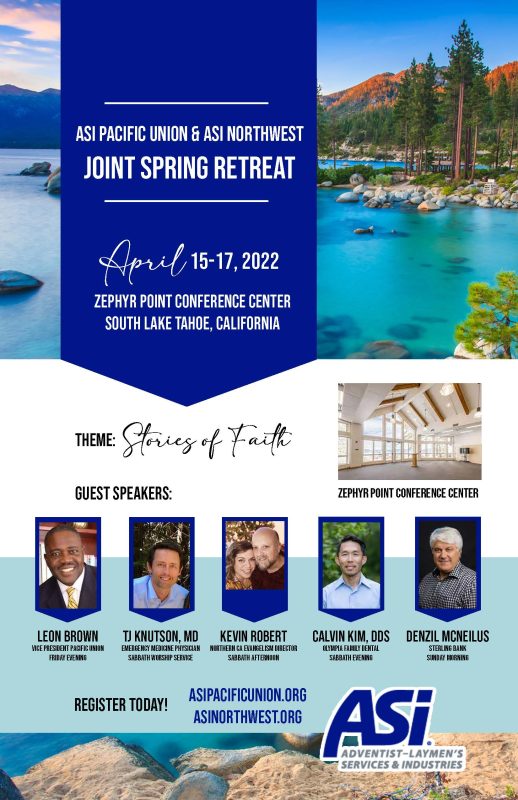 Joint Spring Retreat
with ASI Pacific Union
April 15-17th
South Lake Tahoe, California
ASI Northwest is joining the ASI Pacific Union this spring at Zephyr Point Conference Center on the South Shore of Lake Tahoe for this year's regional ASI Conference!
The featured speaker is T.J. Knutson M.D. He will share his family's powerful story of God's faithfulness, in the face of life-changing tragedy. Also featured will be Leon Brown, Vice President of the Pacific Union, and Calvin Kim, DDS.
The theme will be "Stories of Faith". As in previous years, ASI "Members in Action" will share inspiring stories of how God is working to change lives through various ministries.
To round out this inspirational weekend we will also be blessed with beautiful music in this stunning mountain location! We invite you to come and be a part of this event!
More information and pricing is located on the registration links.
Zephyr Point Conference Center
Register with the link below or call (805) 413-7256
Address:
660 US-50, Zephyr Cove, NV 89448
Registration (click button above)*
$260- Exhibitor (includes 5 vegan meals)
$110 – Adult (includes 5 vegan meals)
$90 – Student (includes 5 vegan meals)
$80 – Child (5-12) (includes 5 vegan meals).
$60 Sabbath Only Adult (includes lunch and supper)
$40 Sabbath Only Student/Child (includes lunch and supper)
Message from the President
Dear Members,
As you may have already heard, ASI Northwest is joining ASI Pacific Union at beautiful Lake Tahoe for this year's Spring Retreat from April 15-17. "Stories of Faith" is the theme, and we will be hearing powerful personal stories!
Dr. TJ Knutson was on duty at the emergency room one Sunday morning when he discovered that members of his own family were coming to his ER following a tragic accident. It's a difficult, but fascinating story of God's faithfulness in crisis! Dr. Calvin Kim will share what happened when he felt convicted to ask his patients if they would like Bible studies. Elder Leon Brown will be sharing his personal testimony, and members of ASI will be sharing how God has led, especially during the Covid epidemic.
Children are encouraged to come but there will be no separate children's meetings this year. If you are interested in being an exhibitor, we encourage you to do so! Everyone enjoys learning about projects around the world!
ASI regional conferences have historically been a great resource in gaining support for growing ministries, and have helped various projects work together with synergistic effects. For those not currently working with a ministry, it opens a world of opportunity for involvement, or may inspire some to begin their own ministry. We hope you can come!
Blessings,
Gary Morgan
President, ASI Northwest